The farmer Unions have appealed political parties to suspend their poll campaign until the time poll schedule is out for 2022 election.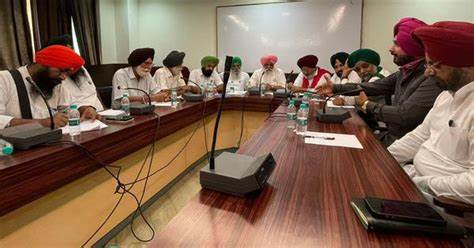 The various farmer unions protesting against the Centre's new agricultural laws on Friday urged political parties to suspend their poll campaigning for upcoming 2022 Punjab elections until the poll schedule is out so that the entire focus remains on their protest.
Navjot Singh Sidhu along with other party leaders on Friday met representatives of farmer unions in Chandigarh, ahead of the state Assembly elections scheduled next year.
Reaction of Farmer Unions after meeting:
Bharatiya Kisan Union chief Balbir Singh Rajewal urged political parties in Punjab to suspend campaigning till the state Assembly election schedule is announced as it is affecting their agitation against farm laws. Rajewal informed that Congress and Shiromani Akali Dal will soon hold discussions on this matter.
Speaking to reporters, he said, "We have asked political parties to suspend campaigning till elections are announced. Congress and SAD said that they will hold discussions about this with their high command."
Rajewal told reporters after a nearly five-hour-long meeting, "As our Morcha (agitation) is going on and a different kind of situation prevails currently, farmers' attention is focused on the Morcha. When parties conduct electioneering and mobilise supporters for their programmes, it diverts their attention."
However, they said parties are free to hold small functions which do not attract big gatherings.
Rajewal said all parties who took part in the meeting asserted that they stand behind farmers in their agitation.
"We want a peaceful atmosphere in Punjab. Punjab Congress party chief, Navjot Singh Sidhu has assured us to fulfill all our demands soon," he said.
Sidhu along with other party leaders on Friday met representatives of farmer unions here, ahead of the state Assembly elections scheduled next year.
In a tweet after the meeting, Sidhu said, "Had a positive meeting with Samyukt Kisan Morcha … Discussed the way forward !!"
Apart from the two parties, representatives of the AAP, BSP, and the SAD (Sanyukt) took part in the meeting, for which the invite was not sent to the BJP for the party's pro-farm laws stand.
Punjab Congress chief Navjot Singh Sidhu, state party general secretary Pargat Singh and working president Kuljit Singh Nagra attended the meeting while the SAD was represented by Balwinder Singh Bhundar, Prem Singh Chandumajra and Daljit Singh Cheema.
Around 32 farmer unions of Punjab have held meetings in Chandigarh with various political parties of the state, except the Bharatiya Janata Party (BJP).
The meetings were scheduled by Sanyukt Kisan Morcha to request political parties not to hold campaigns at various places in the state before the official declaration of the Punjab Assembly elections as it may disrupt their ongoing protest.
Punjab based 32 farmer organisations that have been at the forefront of the ongoing farmers' agitation against Centre's farm laws. Farmers have been protesting since November 26 last year against the three newly enacted farm laws:
SAD leaders Prem Singh Chandumajra and Maheshinder Singh Grewal said "a conspiracy is afoot by the Centre to restrict the farmers' movement to Punjab and then suppress it by imposing President's Rule in the State."
"Our fight is with the BJP at the national level. Political activity has not been restricted due to the farmers' agitation in any other State in the country. Going to the people is as much your right as ours and this should not be restricted," they said.
SAD senior leaders Balwinder Singh Bhundur and Daljit Singh Cheema said, "We understand that the farmers' movement should not be affected at all. We will not hold rallies on any day on which the SKM announces a special programme. We are also ready to support the struggle by sending our cadre to the Delhi border protest sites. The SKM is also free to set a quota for participation from every political party and we will adhere to it."