On August 31, 2021, the Gross Domestic Product (GDP) data for the first quarter (Q1) of financial year (FY) 2021-22 (April 2021 – June 2021) was published by the Ministry of Statistics and Programme Implementation (MoSPI).
The freshly released data suggests that India's GDP grew by a whooping 20.1 percent in comparison to the same period in 2020. This unprecedented growth rate has since been celebrated as a landmark achievement for the Indian economy, with the most woke nationalists including several Union Ministers choosing twitter to announce their victory under the hashtag #IndiaBounceBack. No stone has been left unturned to project that the Indian economy is 'Shining'.

Why is the common Indian perplexed?
While the leadership is busy claiming credit for this historic jump in GDP, why this unprecedented, never seen before rate of growth fails to reflect in the lives and living standards of common man, is a question we are all asking ? Barring few capitalists like Adani, whose has increased by approximately 340 percent since May 2014 according to the Bloomberg Billionaire Index, the average Indian fails to relate with the stupefying growth projections claimed.
What did we do wrong to land in this quagmire of decadent personal income, unemployment, price rise – asks a common Indian? What did we do wrong to become the losers in the fast-growing economy as projected ? Are we the sole losers in this booming economy ? Well, the gleam of hope isn't all that far away. One can be content in knowing that they aren't alone in their sufferings. As for the question of why this surreal GDP growth rate has not benefitted the common man, one has to dig deeper behind the enormous figures. The truth behind the GDP figures will help you understand that these GDP growth figures are just a hogwash.
How to deconstruct the truth behind 20 percent GDP growth ?
We address the mystery behind these GDP components and answer why this double-digit GDP growth is nothing less than a 'damp squib'. The growth, prima facie, looks exemplary.
But one needs to understand that the GDP during Q1 FY 2020-21 (when an unplanned nationwide lockdown was announced) had contracted by 24.4 percent in real terms. The GDP was rendered worse off than Q1 of FY2018-19. To simplify, it meant that the Indian economy was pushed back to 2017 levels. Furthermore, it must be noted that the Indian economy has been on a constant decline for the last six-seven quarters before the pandemic hit the world in 2020. Therefore, the post lockdown contraction of 24.4 percent was itself on an already low base.
India is a consumption-led economy, and when we look at private consumption expenditure, it is almost the same as during Q1 of FY2017-18. This reflects a deeper crisis that has gripped the Indian economy. It must be noted that the GDP figure is made up of many components, and therefore superficial conclusions drawn from the absolute figure are misleading . We dissect these components of the GDP figure for clarity so that one can derive more realistic conclusions.
We look at two important Indicators.
Private consumptions versus GDP
The share of private consumption in the Indian economy during the Quarter 1 stood at 55.8%. This was the Lowest since Quarter 4, 2013 (Lowest Figure in 8 years), when it had stood at 54.8%. This weakness in consumption can be seen in other data points as well. The sales of fast-moving consumer goods (FMCG) companies, which comprise of which daily-use items, like toothpaste to washing powder to hair oil, biscuits, have seen ZERO growth in the last three years. You may note that Several Multi-Brand Retail Marts are Offering these goods at deep discounts; because products are nearing their expiry.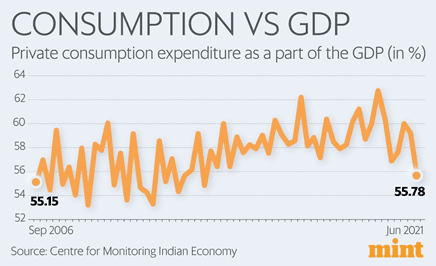 The Loans given by banks with gold jewellery as collateral have risen by 66.7% from Quarter 1 this year, from the year earlier. The NBFCs have seen a similar boom in lending against gold jewelry. Not only has the demand against Gold loans have risen, but also the defaults have quadrupled. Every Odd day, you may see an Advertisement about Gold Auction.

The Consumer Sentiment Index,released by Centre for Monitoring Indian Economy (CMIE), is at half the level of what it was in 2019 and considerably much lower from where it was before demonetization. Reserve Bank of India (RBI's)Consumer Confidence Index is at all-time low of 48.6. The survey notes that the sentiments on overall spending remained unchanged as higher spending on essential items were offset by a drop in non-essential expenditure; consumers expect a further contraction in discretionary expenditure in the year ahead. This portrays a grim picture.

Investment versus GDP
Falling Investment has become a norm in the past few years in India. A steep fall in investment has affected the rate of income growth. The growth in GDP per capita in 2010-11 stood at 18.3 percent. Since then, it has seen a predominantly downward trend, and in FY 2019-20, the growth was down to 6.6 percent. In 2020-21, it contracted by 4 percent. This reflects a new all-time low.
For income growth to pick up, investment needs to be propelled in order to create jobs. Money must be placed in the hands of people to spur economic activity. However, most of the businesses today are not in a position to borrow. The capacity utilization in several sectors continues to be low, further discouraging borrowing. The producers do not wish to expand unless consumer demand rises, and this sentiment has constricted several producers. The responsibility for restoring market confidence lies with the government, who must take real measures to kickstart the economic activity, through real 'stimulus' packages and not just sugar-coated loans that no one can afford to take.
Consumer demand is a function of income growth. Income growth, in turn, depends on investment.
Key takeaways
While the situation is both grim and scary, those responsible to fix it seem to be in denial as they are busy celebrating 'the GDP figure' which is not reflective of the truth. India's economy is challenged with both Cyclical and Structural problems.
To solve the Cyclical Problems, The Finance Ministry must provide 'macroeconomic stimulus'; and, to fix the structural problems, structural reforms must be undertaken. Cyclical Supports to growth have fallen away, they have exposed severe problems in the structural balance sheet foundation. It is this combination that has made the slowdown so sharp and severe.
It begins with the acknowledgement of the truth and Acting on it. There is no time to be in a denial.