The Chhatra Parishad today in Kolkata announced the starting of the 'Save Education, Save the country' campaign to stop the commercialization of the education sector under Modi rule. The Chhatra Parishad which is an affiliated body of the NSUI, the student's wing of Congress announced its statewide campaign in tandem with the nationwide campaign launched by NSUI General Secretary Shri Roshan Lal Bittu.
Roshan Lal Bittu accused the BJP government of using the corona pandemic to usher in the privatisation of the education sector. This move will not only make education out of the reach of the poor but will also lead to more job losses, claimed the leader.
The NSUI also demanded that the age restrictions for all competitive exams for central and state government jobs be relaxed by two years. Since most of the candidates preparing for the exams had to face some kind of obstacles like cancelled exams or the illness itself, the NSUI General Secretary deemed it is appropriate to relax age restrictions and increase the number of attempts for all candidates.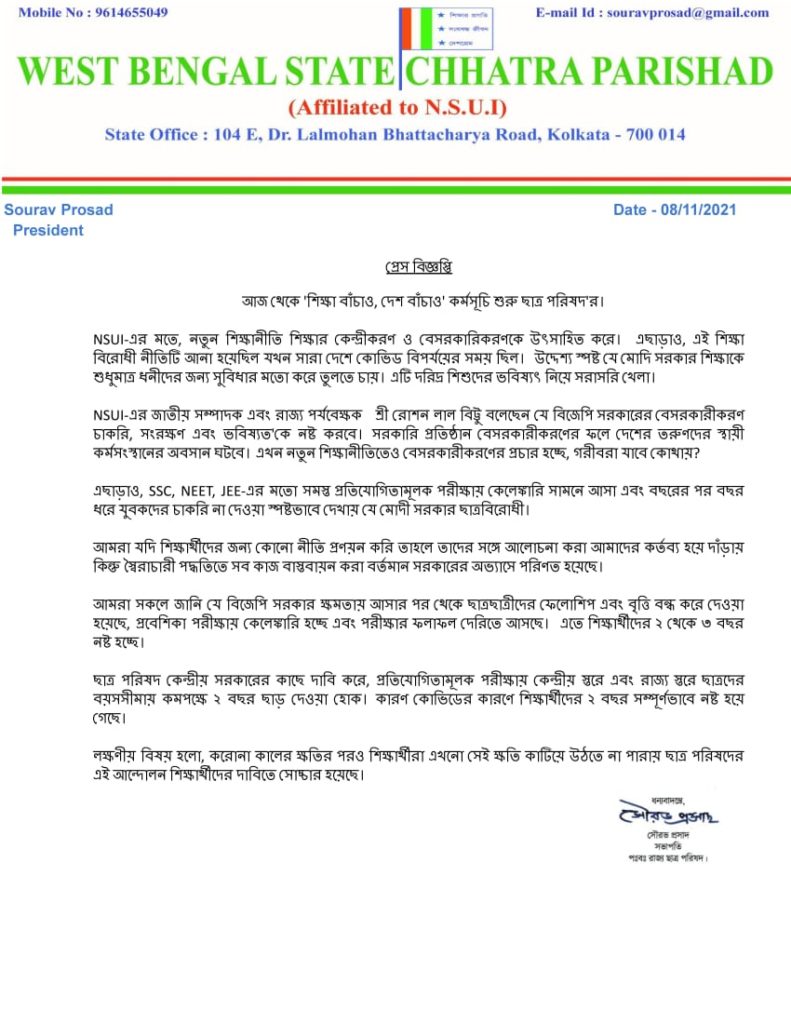 Shri Saorav Prasad, President of the West Bengal State Chhatra Parishad will be leading the campaign in Bengal. Many students, as well as teachers from the state, are expected to join the campaign.
The nationwide protests are in response to the National Education Policy announced by the Modi government last year.
While the government has termed the new policy as futuristic, Congress suspects backdoor entry that is being to corporates to infiltrate the education sector. Congress also criticized the Modi government for not taking the opinion of teachers and other stakeholders in the education sector before announcing any changes in the policy.