Private sector lender Yes Bank Ltd. saw its share price fall nearly 14 percent on Thursday, taking the stock down to a six-year low. The bank's market capitalisation has now fallen about 85 percent from its peak.
Yes Bank has been in the midst of a clean-up ever since founder chief executive Rana Kapoor stepped down at the start of this year. Ravneet Gill, who took over in March, identified a watch-list of stressed assets that he is trying to cure. He has also been working to raise capital. A week ago, the bank concluded a qualified institutional placement, raising Rs 1,930 crore.
The news of the fund raise should have come as a relief for investors but it hasn't played out that way.
Yes Bank shares have under-performed the benchmark Nifty over the past five days, just as they have over a 3-month, 6-month and 12-month time horizon. The bank has been the worst Nifty performer, falling 69 percent from the start of the year while the benchmark index dropped 1 percent.
Yes Bank's U.S. dollar bonds are also trading at a significant discount. Issued at coupon rate of 3.75 percent in 2018, the bonds were last traded at a yield of 6.31 percent.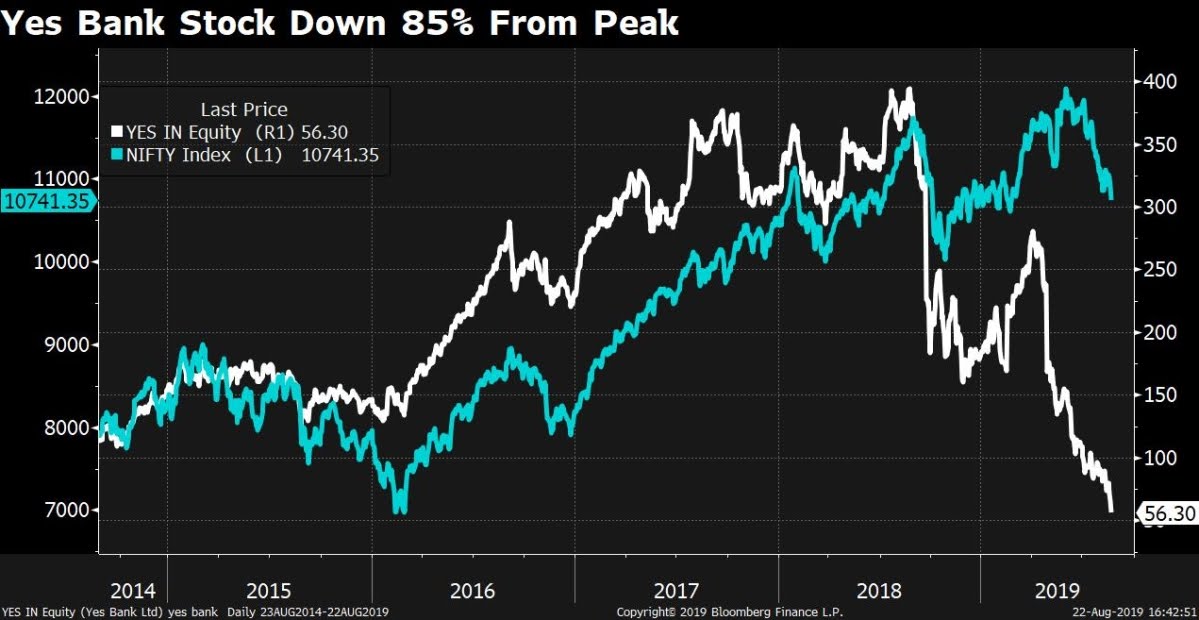 Not Enough Capital?
One continuing concern around Yes Bank is that it doesn't have enough capital even after the QIP issue. Gill had initially said that the bank intends to raise $1 billion and was hoping to tap private equity funds. Since that hasn't materialised yet, the bank started with a smaller QIP issue.
Citi analyst Manish Shukla, in a note after the fund raising, said that the bank will have to raise additional capital raise soon, either from private equity investors or sovereign wealth funds. If neither of those fructify, it may have to do another QIP issue.
The experience of QIP investors in this round will be not be encouraging if the bank chooses to tap that route again. Those who participated in the recently concluded issue subscribed to shares at a price of Rs 83.55 a piece. They are now sitting on losses with the stock falling to Rs 56.30. Societe Generael, Key Square Master Fund, BNP Paribas Arbitrage and HDFC Trustee were among the prominent investors.
Stressed Asset Pool
Concerns about the bank's pool of stressed assets also persists.
A recent reminder of this came via developments in CG Power Ltd., in which Yes Bank currently owns 12.79 percent. The stock price of CG Power has corrected over 50 percent in the last three days after the company's risk and audit committee raised red flags over understated liabilities, related party transactions, lending without collateral and understating net worth.
Yes Bank also owns equity stake in other stressed firms like McLeod Russell India Ltd., Fortis Healthcare Ltd., Cox & Kings (India) Ltd. as well as Valecha Engineering Ltd.
At the end of the first quarter, Yes Bank had said that it has a watchlist of Rs 10,000 crore in loans, that it tracking closely. The bank's sub-investment grade book stands at about Rs 29,000 crore.
Where's The Bottom?
Currently 18 out the 43 analysts tracking the stock have a sell recommendation on the stock. The Bloomberg consensus target shows a return potential of 80 percent from the current levels.
Jefferies currently has the lowest target price on Yes Bank of Rs 50 per share. The stock is trading just above those levels. Jefferies, in their post quarterly earnings report, said that they did not see any visibility on a recovery in the bank. The book rated below investment grade continues to increase and about half the new non performing loans came from outside the watchlist, the brokerage house pointed out.
UBS, which has been negative on Yes Bank for some time now, said that the asset quality deterioration is impacting operating metrics. UBS analyst Vishal Goyal said that asset quality risks may be higher than what the market is factoring in and credit costs for FY20/21 may be close to 250 basis points.
Nomura believes that the path to recovery for Yes Bank could be very challenging. It said that the transition from a corporate bank to a more granular balance sheet means revenues will likely settle at a much lower level relative to past expectations.