The Indian rupee fell to its lowest in nine months against the U.S. dollar as the country's benchmark indices tumbled and foreign investors continue to selloff. The domestic currency depreciated 22 paise to trade at 72.03 against the greenback—its lowest since December. Thereafter, it recovered and gained 0.14 percent to 71.71 per dollar as of 11:20 a.m.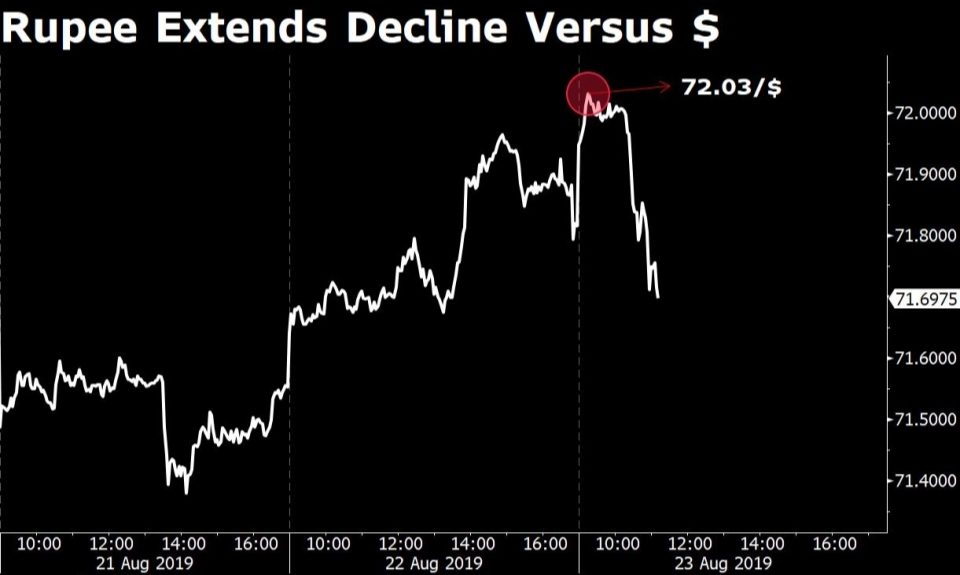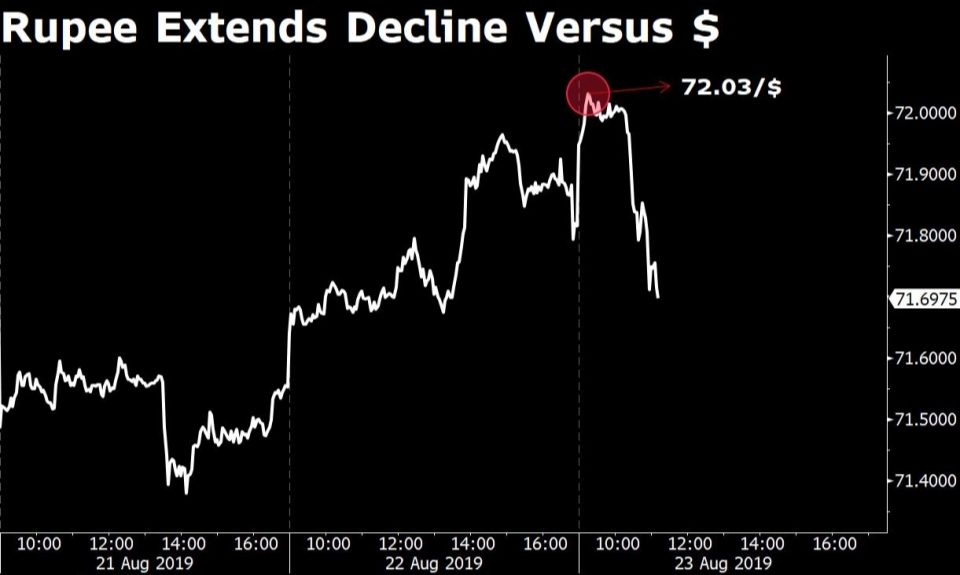 Besides foreign fund outflows, forex traders told PTI that a strong dollar in the overseas markets weighed on the sentiment. Foreign portfolio investors withdrew around Rs 900 crore from capital markets on Thursday. The dollar Index—which gauges the greenback's strength against other currencies—was up 0.15 percent ahead of U.S. Federal Reserve chairman's address at the annual convention of world economic leaders at Jackson Hole.
Global factors, more than domestic cues, are responsible for the weakness in the currency, according to Madhavi Arora, economist at Edelweiss. "The rupee's weakness is a knee-jerk reaction to the Yuan's move in the market today morning," Arora said. The currency had closed lower at 71.80 against the dollar on Thursday.
The rupee has been the worst performing Asian currency in the last one month, depreciating 4.1 percent against the dollar. However, year-to-date basis, the rupee's performance is in line with most other Asian currencies, which have weakened against the backdrop of a trade war between the U.S. and China.
The rupee has been and still is over valued, said Ananth Narayan, professor at the S.P. Jain Institute of Management and Research.
About the domestic factors contributing to uncertainty, Narayan said the expectation of a fiscal stimulus amid a slowing economy will not be easily met as the government does not have a lot of fiscal headroom. While the finance ministry said the deficit for 2018-19 stood at 3.4 percent, Narayan estimates that the real deficit is closer to 4.5 percent of the gross domestic product.
"Money markets will continue to be nervous, fundamental confidence and factors are not looking great. I still think we will do well eventually as long as we proceed on the path of real, difficult reforms rather than just concentrating on the pain killers," he said.