There had been times when the data issued by a government agency or a ministry was considered as an authentic source of information. But what can someone conclude, when a government agency and a ministry show disparity in their data. The data is not related to the growth index or GDP or any economic policy this time. It is a serious concern regarding the number of corona cases in the country.
A large disparity has come into the notice of what the ministry of health and family welfare is showing in its official website and what ICMR has reported in the press release yesterday.
While the website of Ministery of Home and Family Welfare shows that there are about 14,792  cases in the country, as on April 18 at 5 PM, the official statement released by ICMR at 9 PM on the same date gives a data of 16,365 people, being tested positive in the country.
Thus, the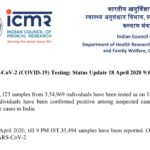 disparity in the data comes out to be not of one patient or tens or hundreds, it comes out to be of around 1,573 cases. If the difference in the timing is even considered does the government agencies want us to believe that there had been an increase of about one and a half thousand cases in the country in just a matter of 4 hours?
It is not the first time when the two agencies are showing different data. A similar kind of situation was reported by The Wire when the data shown by the two agencies did not match on March 27.