In one of the biggest leaks ever of offshore financial records, the International Consortium of Investigative Journalists(ICIJ) has revealed financial secrets of the rich and powerful in a leak called the Pandora Papers. The Pandora Papers are said to be a follow-up to a similar project released in 2016, called the Panama Papers, compiled by the same journalistic group.
The ICIJ, which involved the BBC, The Guardian and The Indian Express among 150 media outlets in its investigation, claims it obtained more than 11.9 million confidential files from 14 separate legal and financial services firms exposing details of ownership of 29,000 offshore companies and trusts.
Prominent Indians involved in Pandora Papers Leak
Over 300 Indian names have been spotted in the Pandora leak – the biggest one yet, bigger than even the Panama Papers leak which rocked the world in 2016.
Anil Ambani
Anil Ambani, brother of India's richest personality, who had interestingly declared himself bankrupt in February 2020 during his dispute with three Chinese banks, found his name in the leaked Pandora paper. It accused him of setting up 18 offshore firms that have borrowed and invested US$1.3 billion. One of which shares a promoter firm that owns Reliance Capital listed in India.
"The Reliance Group conducts business globally and for legitimate business and regulatory requirements, companies are incorporated in different jurisdictions", a lawyer on behalf of Anil Ambani told the Indian Express.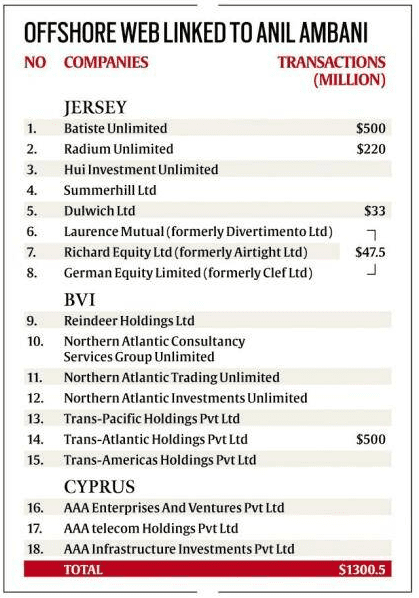 Kiran Mazumdar-Shaw
Biocon Founder Kiran Mazumdar-Shaw has been mentioned in connection with her husband John McCallum Marshall Shaw who is on radar. He is a British citizen and a key person associated with a trust set up by him which was later barred by the Securities and Exchanges Board of India (Sebi) for insider trading in July 2021. Reportedly the entity has 19.76 percent in Biocon, and has US$85 million in various assets, including cash and real estate.
Purvi Modi
Fugitive jeweller Nirav Modi's sister Purvi Modi, reportedly set up a firm in British Virgin Islands a month before he fled in January 2018. The trust was set up to work as a corporate protector of another trust formed through the Trident Trust Company, Singapore. She has been named accused in a US$2 billion money laundering case filed against Nirav Modi and Mehul Choksi.
Nira Radia
Nira Radia, a corporate lobbyist has reportedly set up a dozen firms, conducting her offshore transactions through Sanjay Newatia, a former Credit Suisse banker. An Indian Express report suggest her named linked with dozens offshore firms. In 2011, she closed down her public relations firm Vaishnavi Corporate Communications after coming under scanner of several investigative firms.
Sachin Tendulkar
Sachin Tendulkar had reportedly set up a firm way back in 2007, which was liquidated in 2016, valued at roughly US$8.6 million.
According to the CEO and Director of the Sachin Tendulkar Foundation, these investments are legitimate and declared in Tendulkar's tax returns.
Some of the other prominent names coming out from leak are Bollywood actor Jackie Shroff, Satish Sharma, Ajit Kerkar (now in jail).
While some of the investments made by the people reported in the Pandora Papers leak could have been done to avoid taxes, they are not illegitimate if the required disclosures have been made to the relevant authorities.