"In the era where the political parties are creating hype for free wifi more than free education, where the youth is criticized for studying at an age of 28-30 years without realizing that the age for PhD, for research and higher studies is exactly this, where the youth is induced more towards raising slogans than raising their level of education because anyhow, education may liberate them and they may form an idea different from the herd! "
It was just another regular conversation with a friend that day, which actually ended up in knowing a leader who not only has a vision for youth, but exploring someone who is optimistic about the opinions of youth in the changing scenarios and advancement which somehow tend towards radical opinions which is usually snubbed by the veteran politicians.
B. V Srinivas, the National President of Indian Youth Congress is not only vocal about the issues affecting the youth but also leaves no stone unturned in highlighting them. He firmly believes in the role of the youth in the policy-making process of the nation and the one who believes that the youth cannot be used only for raising slogans in the political rallies, but they have to be a participant in decision-making process. Shri Srinivas BV, the newly appointed Indian Youth Congress President provides ample space to youth to express their opinions and ideas and incorporates them in the working of the organization.
So, we went ahead to know more about him..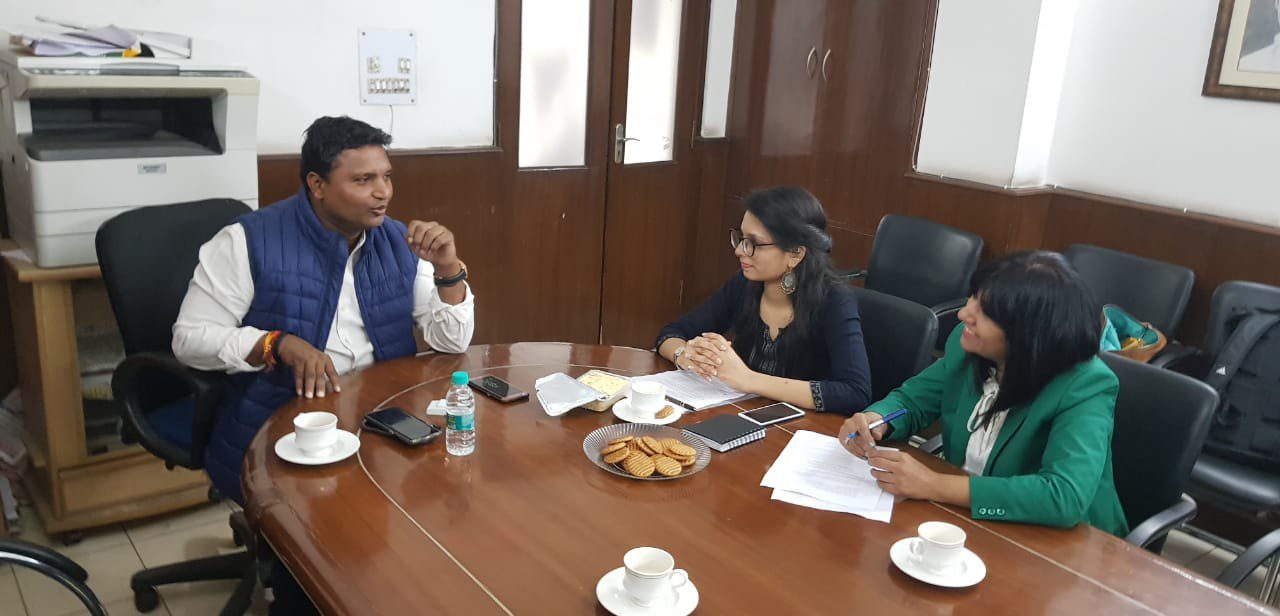 Infeed: Sir, the very post that you are serving today as the Chief of the Indian Youth Congress has been held by some big time stalwarts like Ambika Soni ji, Anand Sharma ji and Ghulam Nabi ji in the past who have in their career gone ahead to make huge contributions to India's growth story and also Indian Youth Congress. So, please tell us your 1st reaction on learning that you have been chosen for this post and today how big as an opportunity you consider it as ?
BV Srinivas: I come from a very small family with no political background. I am grateful to Shri Rahul Gandhi and Smt. Sonia Gandhi ji who gave me this big opportunity that too at a tough time. I started working as a Block President followed by district level, state level and then held the post of National Secretary, IYC followed by National General Secretary, IYC, Vice President, IYC and now serving as the President, IYC, came a long way!
Not just Ambika Soni ji, Anand Sharma ji and Ghulam Nabi ji as you've mentioned held these posts in the past but also the same post has been held by Subhash Chandra Bose during the freedom movement and I feel it is a great honor with a huge responsibility for me to hold the post.
Infeed: Please tell us about BV Srinivas – the child ? How was your childhood ? What was your 1st exposure to politics and what inspired you to take up student politics where ever you first stepped into student politics ?
BV Srinivas: I am a sportsperson, played under 19 cricket, India South zone, also played in London. After that, I got a small injury in the right eye which took almost 2 years to recover and that's why, I left cricket. In the meanwhile, a college friend of mine joined NSUI (National Student's Union of India, Student wing of Congress) and I got involved into with him. We fought for the Student's rights and stood for their issues. Within a short period of time, that friend who used to lead and because of whom I had joined NSUI, had to leave to Dubai and then I was approached by other people to lead the group. That exactly was my first step into student's politics.
Then, soon Rahul Gandhi ji started a campaign according to which 'locals' were welcomed to join politics and become a leader, I took the opportunity became a member and then held the post of General Secretary of the Karnataka State, then certainly my good performance at the state level made me the National Secretary and I was made the Incharge of Uttar Pradesh. I had language issue at that time, I couldn't speak in Hindi and working as the incharge of Uttar Pradesh, I not only learnt hindi but also a lot about politics. The exposure, experience and work I did during that phase had a huge contribution in making me what I am today.
Infeed: Sir, as u said that You are a sportsperson. So, how do you think the challenges that one has to face in sports are different from the challenges that one faces in politics?
BV Srinivas: There is no difference, I take both the challenges in a similar manner and that is the reason why I succeeded. Usually, a lot of people we meet are afraid of politicians, the only way we can compel them is to have absolutely 'no ego'. I believe people who have ego can't go too ahead in politics. Also, like sports, I believe working in the field. It's been 3 months since a joined as IYC President and I try to spend most of my time in the field amongst people, in the cadre to understand their problems, listening to people's pain and analysing what can be done. Instead of asking people to come to Delhi and meet, I prefer to go to their place because not everyone can incur the expense to visit Delhi.
Infeed: How was growing up in not so popular South Indian District has helped or shaped you as a national politician?
BV Srinivas: On 14th Feb, Valentine's Day in Mangalore, Karnataka the Vishwa Hindu Parishad practiced blackening the faces of youth who were supposedly dating each other and get them married forcefully to harass them. Also that incident reported that they attacked girls. So, at that time I went there, heard and witnessed what all happened and in the heat of passion , I beat up the Vice President of VHP publically. At that time, I wasn't very sure of what I did was right or not. But very soon, a group of girls from Delhi, Bengal and from varied cities visited me, motivated and appreciated my move, made me realize that what VHP has been doing to the youth I gave them a mouthful of what they deserved. A news channel started an online voting to know the opinion of people on what I did, over 5 Lakh people voted in favor of me while around 30 thousand voted against. Though, after all that happened I faced a lot of criticism and threats from varied groups but the amount appreciation and love I received from people across the country overpowered it.
Infeed: Rahul Gandhi, as the party chief is known to be always stressing about the involvement of youth in the mainstream politics, so how is the working of Youth Congress committee different from the working of the national Congress committee and how it provides youth a platform to step into the mainstream politics?
BV Srinivas: Shri Rahul Gandhi ji believes that, "A real leader is the one who creates leaders." Both Youth Congress and NSUI serves as a platform for people who have absolutely no political background and are new faces, the party just works to give them the recognition and space they deserve. Rahul Gandhi's idea is to make leaders from every caste and class of people across the country. There have been varied examples of such people who have been MPs and MLAs. Ramya Haridas, MP from Alathur, Kerala is one such example. She herself said in one of her statements that what all she has become today is because of the Indian Youth Congress.
Infeed: You have been known to be very vocal about the issues affecting the youth and believe that youth should not only be involved in raising slogans but also in the decision making process. But the central issue has been that the ideas of the youth are more radical and rationale oriented which has mostly been snubbed by veteran politicians across all party lines. So how has been your experience on this front working in Congress and what are your plans in coming days as IYC president to smoothen up this change management process better?
BV Srinivas: As we progressed from Radio to television to telephones to laptops and I pads and a lot more technology today, similarly our ideas also need to progress, develop and must have capability to adapt to new conditions and challenges in the changing and developing scenarios. As today we can see, the students of JNU are on a massive protest because of fee hike. The BJP failed to understand that most of the students there are from rural areas and not from well off backgrounds, ones who cannot afford three meals a day, how would they afford such high fee? The attempt of BJP is clearly towards privatization of education and soon they will create such situations that no youth from a poor family will ever be able to become a doctor or an engineer.
The government need to acknowledge the fact that Bharat is a "Yuva Desh" and no country could progress without the contribution of the youth. Their irrelevant and funny ideas that "Gaumutra can cure cancer" or "carrot will help to survive in pollution" won't help and aid the youth these days. There is an urgent need to come up with solutions and not just vague statements.
Infeed: In the political circles, it is been known your close to the DKS(DK Shivkumar group) in Karnataka – What is your take on the legal proceedings on it and most importantly as a youth in politics how to see the huge welcome that he received by the masses on his return from the jail in bail?
BV Srinivas: It's nothing but just an attempt by BJP to suppress the voice of the opposition. Not just it, if you will look into Chidambaram's case, any advocate can easily say that it merely is a matter of 3 days to end and bail could have been granted. But, the ruling party is not willing to let things happen the way they should be. A recent incident of mid day meal scam in UP where students were served salt with roti was exposed by a media person and that individual had to face detention later. Maximum of the corrupt politicians are from BJP. A total of 172 MPs are facing severe cases and over 120 are from BJP. So, the statistics clearly shows that how they are just interested in doing politics and not actually working because if they would have been working the GDP of our country would not have been lower than that of Bhutan, Bangladesh and Pakistan. They are doing politics in the name of Pakistan, but forget to admit the fact that even their GDP these days is higher than ours.
Infeed: Belonging from the southern part of the country, do you think it was comparatively difficult for you to establish yourself as a national leader because of the language and cultural barriers?
BV Srinivas: The Indian National Congress is the nationalist party since the freedom struggle.
Like Mahatma is not a just a person but an ideology, he never won Nobel Prize award but a total of 13 people who followed his ideas and ideology won the Nobel Peace Prize Award. Similarly, the Indian National Congress is not just a party but an ideology which gives a platform to people across the country which provides ample space to people from different party of the country.
The opposition have been mocking Congress leaders that it prioritizes family politics but fails to acknowledge the fact that since over 26 years, no one from the Gandhi family became the PM even when they could or held the posts related to finance or of utmost power. They are the family of sacrifices and is a blessing to our country.
Infeed: How well do you think Union Govt. & Delhi Government has been able to deal with the pollution problem which is a major health concern for Delhites and what will be the contributions on this front by IYC to Congress manifesto for the upcoming Delhi legislative Assembly elections?
BV Srinivas: There are just making plans and piling up their manifestos, there were plans for all party meeting which did not take place yet. Also they had plans for expertise opinions to solve the issue at hand but that also did not take place. The money that was supposed to be spent to curb the pollution problem is being spent on advertisement by both BJP and AAP. Arvind Kejriwal, asked people to follow odd-even but they themselves have not done anything yet to deal with the pollution problem. All his promises of free buses, CCTV cameras installation, free wifi, electricity, water and should have been fulfilled yet as most of them were a part of his previous manifesto, but the promises remained 'just promises'.
Delhi has progressed most in the times when Smt. Sheila Dixit was the CM. She and the Congress party worked for the development of the Capital unlike them who made just promises and spent money on advertisements instead of public welfare.
Infeed: What is your best memory so far working as a Congress men or as a youth in politics?
BV Srinivas: The best memories have been the ones in which I worked on field for relief camps, rescued people. In Uttarakhand, I worked for 1 and a half month in the flood relief camp. In Jammu and Kashmir, Jhelum, I worked for 21 days. Also, I worked in Jharkhand, Kerala and Madhya Pradesh flood relief camps. The feeling of being able to rescue people and to provide them the basic necessities they have been deprived of and the love that I received in return from people had been my best memory so far whilst working as a worker in the party.
Infeed: The next segment we have is known 'My favorites' where in we will ask you to candidly pick up your favorites.
• Favorite Color? Blue
• Favorite Karnataka Special Food? Ragi Ball
• Favorite North Indian food or something that you like? Paneer
• Favorite Freedom Fighter? Mahatma Gandhi
• Favorite Politician? Rahul Gandhi
• Favorite Social Media Platform? Facebook and Twitter
• Most used phone app? Go Ibibo
• Favorite News Anchor of the present times? Ravish Kumar
Infeed: . As we depart one last question Mr Srinivas, as a common Indian youth in politics how optimistic are you in seeing the youth of today will be a part of big decision making process of the nation ? and any message that you want to give to the youth of the nation as the IYC president?
BV Srinivas: In today's time, the BJP is trying their best to keep the youth scared, suppress their voices and to oppress them. I want to urge to the youth of the nation not to be scared of these people, we are Indians, we fought bravely against the British and so is the time today to fight against these people. Believe in the Indian National Congress and their ideology for the development and progress of the nation as a whole!
"Story by Sarah Iqbal"