Heineken NV, the world's second largest beer maker, has taken control of the country's largest brewer United Breweries Limited (UBL)
Heineken is likely to have acquired an additional 14.99 percent stake in United Breweries, CNBC-TV18 reported. Around 3.96 crore shares of United Breweries traded on BSE at Rs 1,471.25 per share.
Heineken applied SEBI for exemption
This recent development comes on the heels of markets regulator Sebi on Tuesday having exempted Heineken International B V from the obligation of making an open offer following its proposed acquisition of shares in United Breweries Ltd (UBL).
As per the application, the acquirer or Heineken International is presently evaluating the acquisition of a maximum of 3,96,44,346 equity shares, amounting to 14.99 per cent, of UBL (target company) from the recovery officer, who is holding and is in the custody of such shares.
UBL is the maker of the country's top-selling Kingfisher lager and was owned by businessman Vijay Mallya, who India want to extradite from Britain over $1.4 billion of loans taken out from banks which authorities argue he had no intention of repaying.
The banks took possession of the stake and Competition Commission approved Heineken's proposed acquisition of additional equity on Monday. Heineken has steadily been building its stake in UBL since taking an initial 37.5 per cent through its 2008 acquisition of Scottish & Newcastle.
The share sale also marks the first instance of banks making a significant recovery in the Kingfisher-Vijay Mallya case since the loans turned NPA, or into bad assets, in late 2012.
Heineken has taken control of the India's largest brewer by buying fugitive businessman Vijay Mallya's shareholding in United Breweries Limited (UBL). The acquisition was made in a block deal that helped a clutch of banks recover as much as 70 per cent of the Rs 9,900 crore lent to Mallya
Mallya left India for the UK in March 2016 after defrauding 17 banks and has not returned to India since. Mallya's airline Kingfisher was grounded on October 20, 2012, after it plunged into a financial crisis. Mallya was declared a fugitive economic offender in January 2019 for defaulting on loans and allegedly defrauding banks. He is  currently fighting extradition to India in the UK courts.
Execution of Deal
The deal was executed in a special arrangement between the Enforcement Directorate, which had attached these shares in the money laundering case, the SBI-led consortium of 14 banks, and UBL's present owner Heineken to ensure that the market prices weren't affected. 
With this share purchase, Heineken's shareholding in UBL has increased to 61.50% from 46.52%.
HIBV is an investment holding company and is itself not engaged in any business activity. It is a direct/indirect shareholder for all non-Dutch companies that form part of the Heineken Group. Heineken Group is an international group of companies engaged in the production, manufacture, packaging, distribution, marketing and sale of beer, non-alcoholic beer, cider and cider-based beverages, and a range of other beverages.
United Breweries Limited
United Breweries is engaged in the manufacture, sale and distribution of beer in India. Its consolidated net profit soared 133.2% to Rs 97.53 crore on 8.4% rise in net sales to Rs 1,544.64 crore in Q4 FY21 over Q4 FY20.
UBL flagship brand 'Kingfisher', has achieved international recognition consistently, and has won many awards at international beer festivals. The most popular beer, Kingfisher Premium Lager beer, is currently available in 69 countries and leads the way among Indian beers in the international market.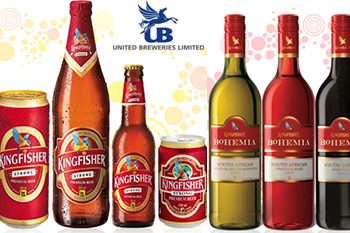 The company was bought by the late Mr. Vittal Mallya in 1947, and since then, has consistently tasted success and never looked back. Today, each one of the 89,763 outlets selling beer in India, sell atleast one brand from United Breweries.
The vast footprint of the production capabilities through owned and contracted facilities of United Breweries Ltd having 21 Own manufacturing units and 11 contract units all over the country.
The beer brands manufactured and marketed by United Breweries Ltd. have always been recognized for their international quality. A name synonymous with beer in India, Kingfisher stands for excitement, youth, and camaraderie.
This largest-selling beer in India, commands a significant market share  in the country with an alternate bottle of beer sold in India being a Kingfisher brand.
Over the years, the Kingfisher family has expanded to include brands and variants that cater to all segments of our audience. The Heineken brands augment portfolio with stellar products of global repute, making UB a preferred option for consumers and customers alike.