Prime Minister Narendra Modi in yesterday's all-party meeting laid bare his desire to reduce tensions with China after assuring the leaders of Congress & other parties that no posts have been captured by the enemy. China too showed the same desire by returning all of the 10 Indian soldiers they had captured from Galwan Valley.
The viciousness of the attack by the Chinese will leave a bitter memory in the minds of many Indians. As mutilated bodies of the jawans reached their respective hometowns, a shell shocked nation paid homage to the brave martyrs.
This has also changed the long standing status quo that was being maintained by both India & China for the past several decades.
For the first time, China has officially claimed Galwan Valley and constructed permanent structures between Finger 4 and 8 of Pangong Tso. Till May this year, both areas were regularly patrolled by the Indian soldiers.
Till now the Indian Army generals have been negotiating with the PLA commanders to give back access to those areas. While the Chinese counterpart argues that India had no posts set up in those areas and that China always had sovereignty over Galwan Valley and Pangong Tso.
With a stalemate in talks, PM Modi, for now, has set the status quo at India's border posts in Galwan Valley and Pangong Tso. By asserting that no border posts were overrun by the enemy, Modi has made it clear that if the Chinese try to move further towards the posts, necessary action will be taken to push them back.
What is the confusion in PM Modi's statement given during the All-party meeting?
Many are rightly confused after PM Modi's statement yesterday as both External Affairs Ministry and Defence Minister Rajnath Singh have already confirmed the presence of a large number of Chinese troops on India's side of the LAC.
On 17 June, two days after the attack, External Affairs Minister S Jaishankar said, "Source of the dispute was the attempt by the PLA to erect a structure in Galwan Valley on the Indian side of the LAC."
Earlier on 2 June, Defence Minister Rajnath Singh revealed to the media that a large number of Chinese troops crossed into India's side of the LAC.
However, what the Prime Minister is saying is indeed true as China never occupied any of India's border posts. Both India and China have differing perceptions about the Line of Actual Control. This creates a zone of land between the two nations which is claimed by both nations.
Both Galwan Valley and Finger 4-8 area beside Pangong Tso fall in that zone.
Till now both India and China had border posts outside of that zone. Patrolling by both Indian & Chinese soldiers used to take place in the disputed zone. Apart from some minor clashes, none of the sides did anything serious to stop the other from patrolling the disputed zone.
That is the real reason why the Indian Army is miffed by the actions of the Chinese. By deploying a large number of troops in the Galwan Valley, China not only cut off access to the valley but also comes much closer to the Indian border posts than before.
China unilaterally ended all dispute by constructing border posts in the disputed zone.
In times of conflict, this can prove advantageous for the Chinese commanders who will now have a direct view of the Indian border posts. Worse, the Chinese now also gain the ability to target India's military movement along the Daulat Beg Oldie Road which is a critical link to the world's highest airfield maintained by India.
Between 1993 and 2008, several border agreements were signed between the two nations that barred both sides from doing any construction activity in the disputed zones of the LAC.
In May this year, China for the first time blatantly violated those agreements and lay their claim on the entire Galwan Valley. China's PLA has also heavily fortified their new positions in the disputed zone of the LAC.
These actions validated China's perception of the LAC while dismissing India's claim forever.
What the satellite pictures tell about the ground situation in Ladakh?
Satellite pictures taken by Planet Labs and shared by India Today provides the clearest view of China's huge presence in Galwan Valley 24 hours after the June 15 bloodshed.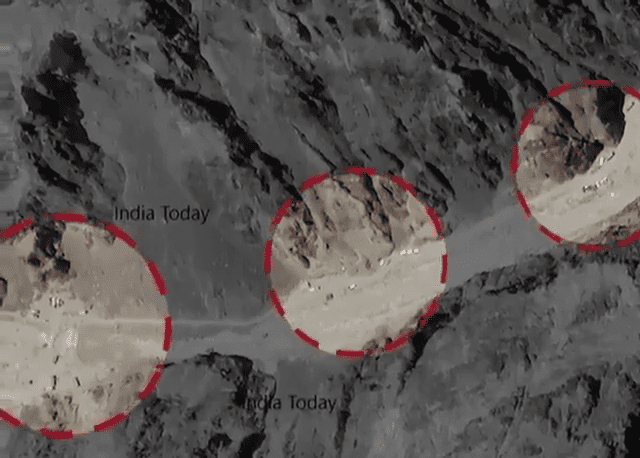 Chinese positions seems to be intact and shows troop deployment only increased since June 6 Lt. General-level talks.
This proves China never had any intention of disengaging and the June 15 bloodshed was pre-meditated.
Military veterans upset with PM Modi
While Indian military's official version contradicts PM Modi's statement, no military official has given any comment regarding yesterday's statement. But army veterans have fully come out in open expressing shock at PM Modi's version of events.
Former Corps Commander Jammu & Kashmir Lieutenant General (Retd) Rameshwar Roy wrote in Twitter, "I served my country through Indian Army over four decades. For what? Just one goal. To defend territorial integrity, borders & sovereignty of India. I am shattered to see India quietly accepting China changing status quo of LAC in Eastern Ladakh. What a sad day for every soldier like me."
Retired Lieutenant Colonel Anil Duhoon said, "In one week, we had casualties at Pak, Nepal and China borders. As a retired Army Officer I am feeling hollowness inside me when I see how badly BJP has degraded defence forces. If your (to Narendra Modi) blood doesn't boil now, when would it? Or would it boil at all?"
Kargil war hero Major D P Singh too expressed his shock at PM Modi's statement. "No one can reduce my or any soldier's morale but I thought he will raise it more. I was wrong", he said.
The Prime Minister yesterday assured all the parties that "our forces are doing what they have to do to protect the country, whether it is deployment, action or counter-action." But he didn't provide any plan of action to evict the Chinese from the disputed areas of Pangong Tso. At the three-hour meeting, Modi also said that "while India desired peace and friendship, sovereignty is most."
With China taking a provocative stand and applying the salami-slicing technique in eastern Ladakh, it is to be seen whether Modi govt tries to change the status quo again, this time in India's favour.