Indian Meteorological Department has issued warning about an approaching cyclone which is expected to intensify into a severe cyclonic storm.
12 districts in Odisha have been put on high alert. IMD has advised fishermen against venturing into the Andaman Sea due to rough weather conditions.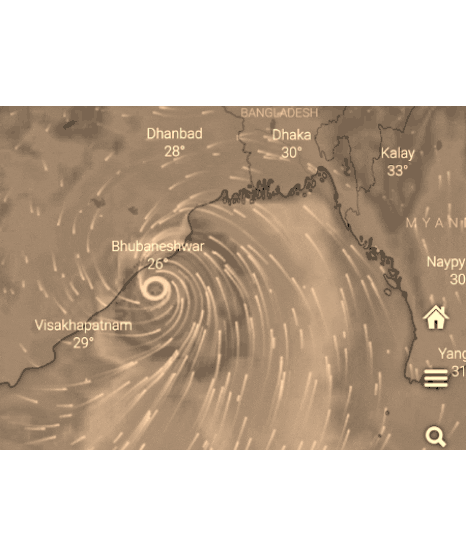 The cyclone is expected to turn north-northeastwards towards West Bengal after making landfall near Bhubaneswar, Odisha.
The weather office has forecast "adverse weather" all along the Andhra Pradesh, Odisha and West Bengal coast for the next five to six days.
Odisha's Special Relief Commissioner P K Jena has assured that the situation is under control. "Odisha has vast experience in dealing with such crisis' in the past. However, the district administrations will have the double task to manage the COVID-19 situation along with the possible cyclone", Jena said to the Press Trust of India.
Meanwhile, the Coast Guard also released a statement this afternoon regarding the developing situation. "All out efforts have been made in the maritime states of West Bengal and Odisha in coordination with the state administration and Fisheries Department," stated the Coast Guard.
West Bengal
The coastal districts of Gangetic West Bengal are likely to experience light to moderate rainfall starting from May 19. Isolated places of the state may receive heavy to very heavy downpour during the period.
Met Department warned fishermen of Bengal against venturing into the sea between 18 May and 20 May
Andhra Pradesh
As long as the storm remains in the sea, moderate to heavy rains associated with wind speeds of 40-50 kmph is expected. South peninsular India is likely to receive scattered rain/thundershowers in the next 48 hours.
The southern states will see better weather conditions once the cyclone enters West Bengal.
Cyclonic storms are periodic features on both the east and west coast of India. They generally appear during the summer and after the monsoon season. This year's storm season will be an added stress for authorities already busy in managing the corona crisis.