The deadly corona virus has knocked in India. This has been confirmed in two citizens. One of the victims is from Delhi. The person here confirmed this, had recently traveled to Italy. Both of his children study at the Shri Ram Millennium School in Noida. This school has been closed down. Children of young man suffering from the virus have also been investigated, children have not found any symptoms of the disease. Five school children are also isolated in their homes.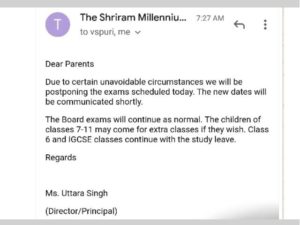 The CMO says that the school will be closed for a day or two. During this time it will be sanitized. The process of sanitizing the school will take one to two days. He said that it would take more than an hour to sanitize a room. The medical team has told the school about the treatment.
After returning from Italy, a person infected with Corona virus gave a party to many people of Noida. This party was done in Agra. As soon as the administration was informed that it was decided that all those involved in the party would be monitored. On the other hand, the school in which this person's children studied has also been closed, although information about how long the school will remain closed has not been given.
Samples of 13 members taken
13 members of the same family returned from Italy have been investigated in Agra. Relatives living in Delhi also accompanied him to Italy. Corona infection has been confirmed in them. As soon as the news came, the Health Department swung into action. Samples have been taken for examination by admitting them to the district hospital on Monday.
Families of two brothers, a shoe businessman living in the Khandari area, had gone to Italy. He was accompanied by relatives living in Delhi. All have returned on Sunday. Thermal screening of everyone was done as soon as they landed at the airport. According to sources, the infection has been confirmed in relatives living in Delhi. After this there was a panic in the health department.