If you have not done exercise for a long time and want to start it again, then functional training is the most beneficial exercise for you. It also cures pain in the joints of the body. No equipment is required to do this, but you will have to learn the right technique of exercise.
Medicine ball throw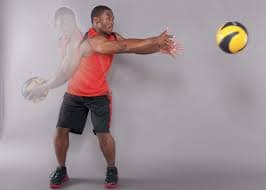 This is a popular exercise among players. To do this, bend the legs backward. Keep the upper back straight with the help of knees. Hold a ball in both hands and move it from head to back. Now straighten both and throw the ball towards the wall with full force. After doing a set of ball throws, now turn and aim at another part of the body from a different angle.
Benefits – This exercise speeds up the upper body and makes the lower body stable.
Single Leg Hip Rose
Spinal pain is felt by sitting in one place for a long time. When this happens for a long time, the bone starts to shrink. Do this exercise to avoid such a situation. To do this, put one leg on the bench while bending your knee. Keep the other leg straight. Keep the hands near your back and lift the body with the force of the hips by pushing the foot off the bench. Hold in this position for a few seconds and then return to the start position. Now repeat this exercise with the other leg.
Also Read : How To Find Deficiency of Vitamin-D in Body
Benefits: This workout helps in stretching of lower back and glutes.
Bear Crawl
It is a simple and effective functional training exercise. To do this, rest the body on the ground with both hands and feet. With their help, move forward. Start moving forward using left hand with right foot and right hand with left foot. To avoid any unnecessary stress during workout, keep the back straight and the abdomen stiff.
Benefits – The muscles of the body will come into active state. Coordination between hands and feet improves.