The world on Friday morning learned that the US's official unemployment rate is actually 13.3 per cent, an improvement from 14.7 per cent in April.
Some economists predicted earlier that country's official unemployment rate may soon hit 20 percent. But most of them have been proved terribly wrong.
What helped the course correction?
The government's relief efforts, mainly the Paycheck Protection Program, for bringing back jobs, has helped bring down the rate of job losses. The government gave away $1200 of cash directly to its citizens, which has helped considerably, in saving them from being broke.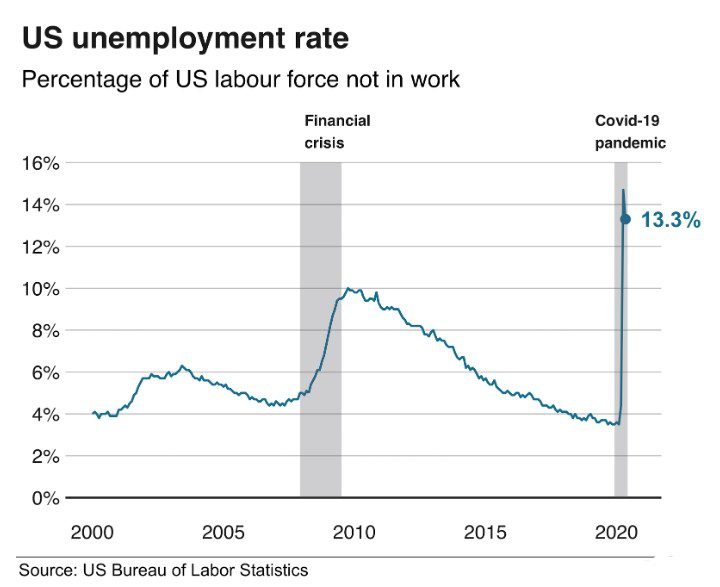 The program gave some relief to small businesses through loans that would not have to be paid back, if most of the money is spent on rehiring and paying employees. PPP money had to be used right away, and a lot of it started hitting small businesses' bank accounts in late April and early May, which ended up triggering a net gain of 2.5 million jobs in May, the Labor Department reported. Many economists expected that PPP would be a big factor in June, but it turns out the impact was fairly large in May.
Can we do the same in India?
The Indian government announced that ₹500 will be credited in Jan-Dhan account holders in three instalments.
Congress leader Rahul Gandhi had already urged Prime Minister Narendra Modi to deposit at least ₹7,500 in accounts of the poor. He raised his concern over the growing number of unemployed people.
Recently, India has seen a massive rise in unemployment. Although no regular data is given by the government, an independent research body Trading Economics published India's May 2020 unemployment rate at 23.5 per cent, which is the highest ever recorded. However, according to CMIE (Centre for Monitoring Indian Economy), the relaxation in lockdown seems to have improved the numbers.
It will be interesting to see how the ₹20,000 Cr Economic Relief Package would help medium and small size businesses. MNREGA could also play a vital role in providing people with some relief.