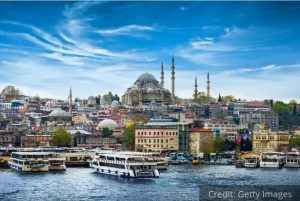 We visit destinations to explore their touristy sites, but given its impressive size and paraphernalia, the Istanbul Airport itself will soon become a touristy site for the passengers landing in the country.
This one-of-its-kind airport has a tulip-shaped control tower, the biggest airport hotel in Europe, four terminals, six runways, 500+ checkpoints, 143 boarding bridges and space enough to accommodate 200 million passengers. Located 20 miles from the main city on the Black Sea coast, the Istanbul Airport is believed to be larger than Manhattan in NYC!
The airport, covering an area of 76.5 million sq m and built at the cost of $12 billion, is starting in four phases. Turkish Airlines is now operating from Istanbul Airport after moving its base from Ataturk airport. As of now, two runaways are operational, allowing two flights to take off and land simultaneously.
The authorities have pinned their hopes on this airport to eventually become a popular travel hub. Once that happens, Turkey will attract millions of travellers by 2023, but the employment prospects will be brighter for the local population, and there will be economic prosperity for the country. Since the airport is vast, passengers should come prepared to 'enjoy' their long walks to their boarding gate. Below, a few prominent aspects of the airport you can look forward to.
A shopping boulevard
For anyone, who loves duty free shopping, this airport is hub spread in around 55 sq m of area; thus, it is the largest duty free shopping airport in the world. There are a plethora of shops, with different kinds of goods and even Turkish delicacies.
Food, food everywhere
The airport will have 150 food outlets as per the plan. So, whether you are seeking a healthy meal, a quick bite, a cup of Turkish coffee or a bite into the famous baklava, there will be a food outlet to serve your desired flavour on a plate.
Comfort for stopover fliers
For passengers, who have enough time to board their next flight, or have to spend a night before proceeding towards their destination, YOTEL is a great option. It is a 451-room hotel, the biggest airport hotel in Europe, located on the landside and airside. Budget customers have the option of choosing the cabin rooms that comes with smart beds that can be doubled up as sofas by merely pressing a button. The rooms also have a smart TV to connect with your mobile phone, rain shower cubicles and access to a cool in-house restaurant.
Lounge, relax

There are three lounges, operated by Turkish Airlines, and two more are to come up soon. The Miles & Smiles Lounge has several food stations shower suites, golf simulator, a play area for children, work stations storage locker etc. The business lounge is also very vast and even has a museum.
App to track

Passengers can track their flight and access the information about the airport via the Istanbul Airport mobile app. The app also provides free access to the airport Wi-Fi and shares information about the events happening in the city.
Green airport
The airport has been harvesting rainwater and using modern recycling technology. All these commendable measures have earned it a special place among the list of assets owned by the city.