Moved by the plight of 10-year-old Vansh Singh, whose video of selling socks on Ludhiana roads to support his family had gone viral, Punjab Chief Minister Amarinder Singh on Friday announced full government financial support for his education, besides Rs 2 lakh in immediate assistance for the family.
He directed the Ludhiana Deputy Commissioner to ensure that Vansh, a drop-out, rejoins his school, with all expenses for his education to be borne by the state government.
The widely-circulated video of 10-year-old Vansh Singh caught the attention of the Chief Minister, prompting him to speak to officials concerned to make sure the boy can continue his studies The chief minister noticed the young boy named Vansh Singh after his video went viral on social media. In the video, the boy revealed that he discontinued schooling and started working to support his family. He also refused to take Rs 50 extra from the customer who shot his video.
The boy's video had captured millions of views the on social media, with people lauding his honesty and dignity. Vansh's father Paramjit also sells socks and mother Rani is a homemaker. Vansh has three sisters and an elder brother, and the family lives in the rental accommodation in Haibowal area.
The Chief Minister, who spoke to Vansh and the family on a video call after seeing the boy's video of refusing a car driver's offer of Rs 50 extra, over and above the cost of socks, said he was impressed by the boy's self-esteem and dignity. Vansh said that he had quit school due to the financial situation at home and he further expressed his desire to rejoin.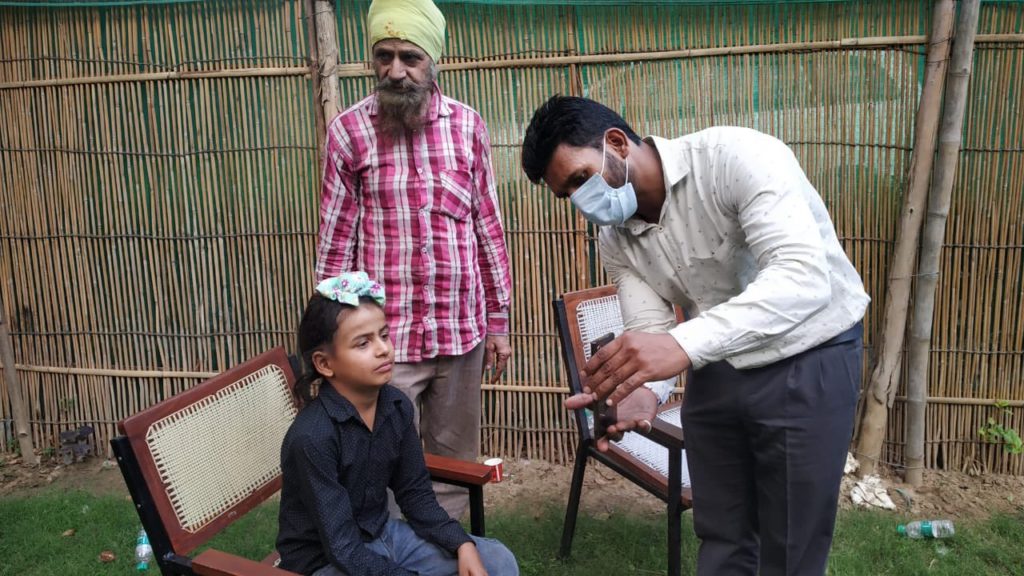 Speaking to him through video call, Singh said, "I will inform the Deputy Commissioner to get you enrolled in the same school where you were studying earlier.I will help your family…."
"Study well and become a big person in the future," the Chief Minister said
Punjab Chief Minister Talking to Vansh over video call
In a tweet, Captain Amarinder Singh wrote: "Spoke on phone to young Vansh Singh, aged 10, a Class II dropout who's video I saw selling socks at traffic crossing in Ludhiana. Have asked the DC to ensure he rejoins his school. Also announced an immediate financial assistance of ₹ 2 lakhs to his family
The video shows the boy selling socks at traffic crossings and refusing to accept money, which is more than the actual cost. It then shows a man in a car recording a conversation he had with the boy on the road about his schooling.
Reactions of Netizens over Social Media
Many Twitter users have praised the boy's honesty and his will to protect his dignity by refusing to accept money. People also praised the Punjab Chief Minister for his intervention. ever since the Punjab CM announced assistance, several internet users lauded Captain for his "great philanthropy work" While many users also sending there best wishes to Vansh for his future.
A Twitter User named Ankit wrote : Truly the CM of people, with lots of empathy in the heart. This is not the first time that we saw Capt. Amrinder Singh ji shows concerns towards somebody and extended his hands for the support. May WaheGuru bless you Sir.
The official Handle of Punjab Government shared that the help announced by the CM handed over to Vansh : " On the direction of Chief Minister @capt_amrinder Singh, 11 – year- old Vansh Singh got admitted in class 5 at Government senior secondary smart school, PAU, Ludhiana today, and Deputy Commissioner, Ludhiana @Varinder IAS also handed over a cheque of Rs. 2 Lakh to his family.