PMO Statement Raises Confusion Instead of Clarification
After much uproar about PM Modi's speech during the all party meet that none of the India's territory is under Chinese possession, PMO issued a clarification saying that the PM's statement was wrongly interpreted.
However, the sixth paragraph of PMO statement says that China is in possession of 43000 sq. km. The paragraph reads as : "What is Indian territory is clear from the map of India. This Government is strongly and resolutely committed to that. Insofar as there is some illegal occupation, the APM was briefed in great detail how over the last 60 years, more than 43,000 sq.km has been yielded under circumstances with which this country is well aware. It was also made clear that this Government will not allow any unilateral change of the LAC."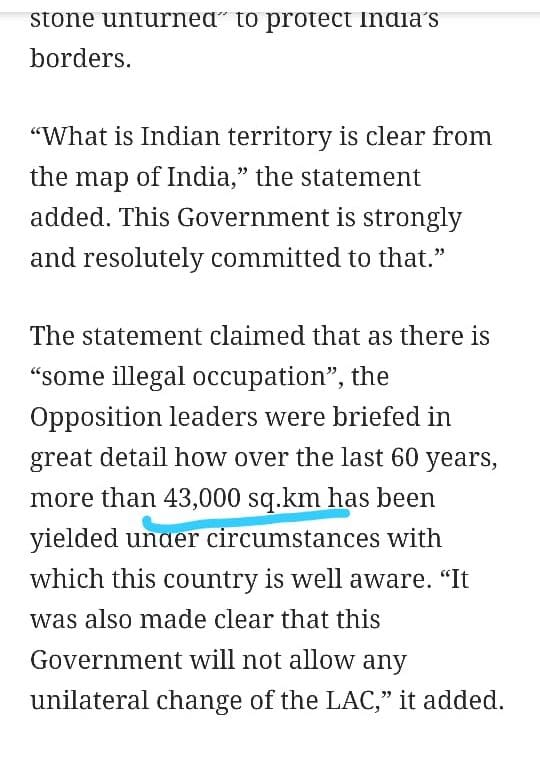 This is in great disagreement to what India's stand has been ever regarding the possession of Indian territory by China. The Modi government, itself, while answering to a question of Dr. Amar Singh (Unstarred Question No. 2923) on March 11, 2020 has replied that 38,000 square km of Indian Territory is in occupation of China.
So if we compare the two statements of Modi government itself, there is a huge difference of some 5,000 square km of India's territory, which raises the question that whether the current Modi government has gifted around 5,000 sq. km of land in Ladakh territory to China.
If the government has not given any such land, then the PMO should once again clarify the error in its statement and should come clean. If the government has given it silently to China, the government must clarify that under which circumstances the land has been given to China and the part which has been given.