New Delhi| While the entire nation is under the grip of corona virus and this is badly affecting the country's people and its economy, there had been a bigger virus that has been a threat to India's centuries old communal harmony. Since the beginning of the pandemic, fake news have raised to soaring heights in India and it has now taken the shape of communal hatred being spread by not just mediocre journalists, but the national media and big names in the news business including Amar Ujala and Patrika.
Now, the fake news is not just limited to WhatsApp group, but even the news agencies like ANI have started spreading fake news in the name of Tabhlaghi Jamaat.
Yesterday, ANI UP handle has put up a news on its twitter handle @ANINEWSUP which quotes "Those in Sector 5 Harola, Noida, who came in contact with Tablighi Jamaat members have been quarantined: Sankalp Sharma, Gautam Budh Nagar(DCP)"
The news talked about people being quarantined in Noida, but was wrongly quoting about Tablighi Jamaat.
Since the time of incident of Tablighi Jamaat, many media outlets have been continuously trying to target it in which one media group has made a fake claim of them demading non-veg food, while another claimed of them excreting in open, which came out to be fake again.
This time, the above mentioned tweet was quoted by Smitha Prakash and Amish Devgan, which went viral further and the news went viral within few hours.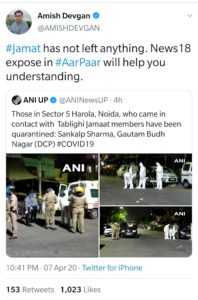 Looking at the viral news, the police administration of Noida quoted the tweet of ANI UP and wrote that the claim made by them is fake. It was made clear that there was no mention of Tablighi Jamaat. DCP Noida has reported that ANI UP is misquoting the facts and spreading fake news, after which ANI UP deleted its tweet.