"Disha Ravi is one of the most selfless activists I have interacted with. She understands the nuances of waste segregation, climate change and even issues in the Atlantic Ocean", her friends say while claiming her arrest is unfair and a tactic to induce fear in the minds of youngsters.
---
Since 2014, India has been finding more and more anti-nationals within her boundary. Section 124A of the Indian Penal Code (IPC) defines sedition as any action that brings or attempts to bring hatred or contempt towards the Government of India. This section has been part of the IPC since 1870 and was used frequently by the British government to charge and arrest Indian freedom fighters. After independence crimes under this section has been a rare phenomenon. However, in the last six years, there has been an increasing number of people who have faced sedition charges for giving speeches or protesting against the government.
Before 2014, this section was mainly used against those involved in terror activities or in money laundering cases which aided terror organizations or enemy countries. However, now farmers, climate activities, journalists, CAA-NRC protestors, nearly anyone who raises their voice against the government has had to face the charge of committing a crime against the State.
Disha Ravi, a 21-year old BBA graduate from Bengaluru would not have even dreamt of facing sedition charges for supporting the farmers' protest. But the Delhi Police has now named the girl as 'key conspirator' in formulating and disseminating a toolkit that was supposed to help the farmers protest more effectively against the government. The police also allege that she has been collaborating with pro-Khalistani Poetic Justice Foundation to spread disaffection against the Indian state.
But her friends and fellow climate activists refuse to believe the Delhi Police. "She is one of the most selfless activists I have interacted with. She understands the nuances of waste segregation, climate change and even issues in the Atlantic Ocean", says Mukunda Gowda, a 25-year old citizen activist who has known her since she was 19. "Her arrest is unfair and a tactic to induce fear in the minds of youngsters", he added.
Her case is not an isolated one. Even during the anti-CAA-NRC movement, more than 3,000 ordinary citizens were charged with sedition cases. While, in 2019, more than 3,300 farmers were charged with sedition for protesting against land disputes.
Since 2014 the number of sedition cases in India has almost doubled while only a handful of cases has resulted in a conviction. This indicates most of the cases are based on frivolous grounds and maybe mainly aimed at crushing any kind of movement against the government.
Along with Section 124A, the Centre and state governments have also been using the Unlawful Activities (Prevention) Act in more and more number of cases mainly against activists and protestors, who have little to no criminal background. In 2018, 1,182 cases were registered under UAPA. 92 per cent of the cases were from Uttar Pradesh, Jammu & Kashmir, Assam, Jharkhand and Manipur.

While, cases in Jammu & Kashmir, Assam and Manipur could still be understood; but it is a mystery how suddenly the police has been finding so many anti-nationals in states like Uttar Pradesh and Jharkhand. And if there are so many anti-nationals working to harm the Indian state, why the courts are not convinced and acquitting most of those charged with sedition or anti-national activities. It is also notable that sedition cases in Jharkhand have dramatically decreased after the BJP lost power in the state and JMM-led alliance came to power.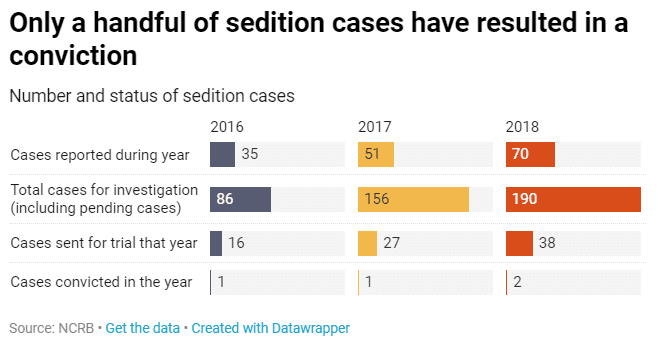 All these suggest most of the cases are politically motivated and have little to do with any kind of anti-national activities against the Indian state. The fact that most of the cases have been arising in BJP-ruled states or Union territories leaves little to the imagination. But such random use of sedition charges against ordinary citizens has the potential to harm the Indian democracy in the long run. This creeping dictatorial habit is reminiscent of the days of Hitler when he used his electoral mandate to slowly twist and manipulate laws to eliminate all kinds of opposition to finally assume full autocratic control of Germany.
Indian Constitution specifically mentions 'freedom of expression' as a Fundamental Right. Such random use of sedition charges and UAPA laws makes a mockery of the Constitution. If Disha Ravi's involvement in encouraging the farmers' protest is anti-national, then nobody is a bigger anti-national than Anna Hazare and Baba Ramdev who led a large-scale movement against the then Indian government in 2011, even Nirbhaya protestors were anti-nationals. A government of a democracy cannot crush people's movements by accusing them of being terrorists and anti-nationals. Such attempts will only destabilize the nation even more and lead to more conflicts. In this information age, it is simply not possible to turn a democratic India into autocratic India.
In that light, Modi government's attempt to punish a 21-year old girl popular for cleaning waste from rivers and caring for animals will end up being a self-goal. On top of that, she is a youngster. By arresting a young city-girl, Modi government risks alienating the vast number of youngsters who had voted for BJP in the hope of ushering in positive changes.
The farmers' protest is threatening to ruin the whole image of Modi being a people's leader and his reaction to the protest is only proving to be counter-productive. By the time he realizes this, it may be too late which will leave a desperate Prime Minister with no option but to impose even harsher measures to protect his regime.