This time the Prime Minister changed his time for address to the nation, but the speculations before it, was the same as before. In a video message this morning at 9, Prime Minister Narendra Modi appealed to the nation to come out with lamps, candles, torches or mobile phone's flashlights for 9 minutes at 9 PM on April 5, to mark the nation's fight against COVID-19.
However, India's doctors and nurses who are fighting the war against corona virus, in raincoats and helmets, feel abandoned in the ceremonial display of the nation's fight against the virus.
"We are being made to go on a suicide mission. Without basic protective gear, it is impossible for us to treat so many COVID-19 patients." said one of the doctors treating patients in the government hospital of Rohtak, Haryana.
The plight of the medical staff in the pandemic has laid bare the dilapidated condition of the public health system in India. Personal protective equipments (PPE), which includes face mask, eye shield, shoe cover, gown and gloves, are severely in short supply.
While the experts predict the demand of 10 million surgical masks, six million N-95 masks and 700,000 body overalls for the doctors and paramedics, the government is in a position to fulfil only one-tenth of the demand.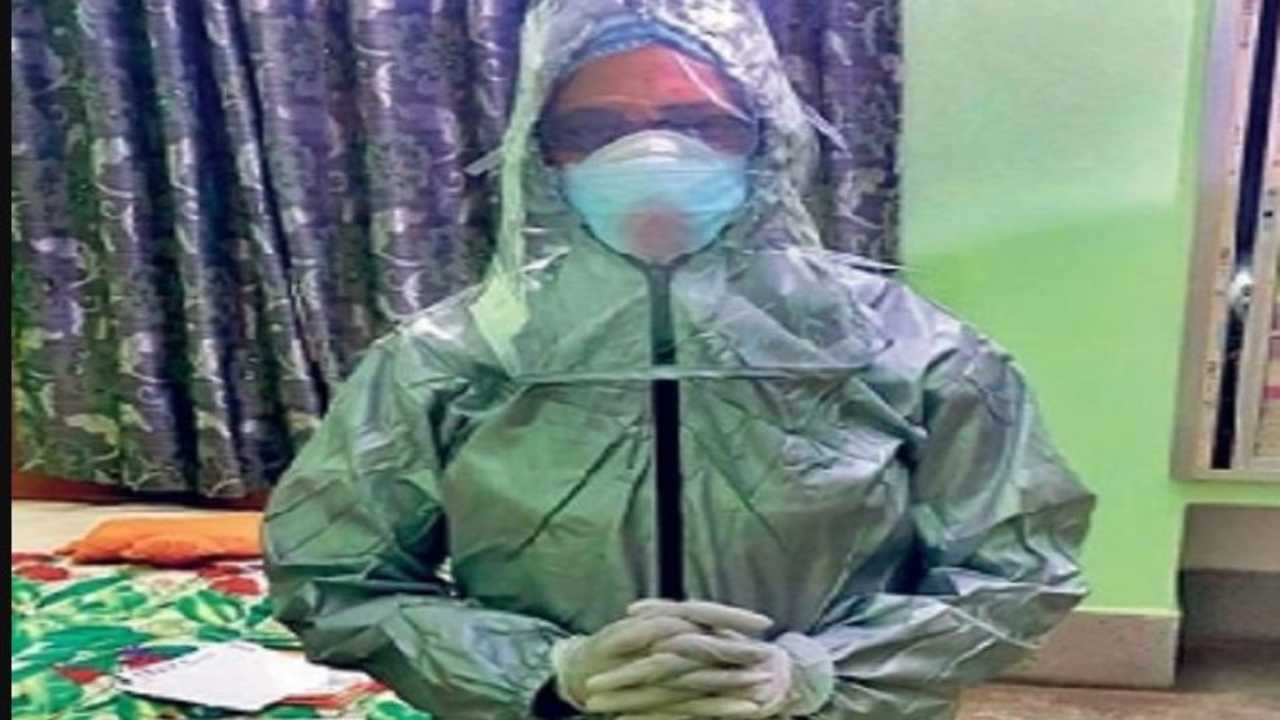 Dr Sandeep Garg of ESI Hospital has been using a bike helmet with visor in front of it to cover his face. "Everybody is scared. Nobody wants to work without protection.", said the doctor.
The problem has become worse due to bureaucratic red tape.
"We have written several times to the Health Ministry from February 12 onwards and met many of them too." Protection Wear Manufacturer's Association of India chairman was quoted as saying on March 21, "You can imagine their sense of urgency when they still haven't managed to come out with specifications, over a month later."
Many doctors were expecting some kind of emergency measures to fight the coronavirus. While the medical fraternity was left perplexed by the move for a symbolic gesture the announcement was also met with scorn, anger and ridicule in social media.
Many Indians questioned the utility of this gesture while some humour took digs at WhatsApp forwards that claimed last time that banging of thalis would create sound waves that would kill the virus.
I just got this

That's it, I don't think I can take WhatsApp anymore 🤦🏼‍♂️ pic.twitter.com/kkRLLESC7s

— Aniket Mishra (@aniketmishra299) April 3, 2020
The twitter trend #ये_आदमी_पागल_हो_चुका_है became number 1 ranking trend in India polarizing the digital space between Modi supporters and anti-Modi supporters.
Doctor :- waiting for ventilator
Modi ji :- let's light diya, torch,etc on 9 pm for 9 Minute
Doc :-#ये_आदमी_पागल_हो_चुका_है pic.twitter.com/i6UOpDf85o#ये_आदमी_पागल_हो_चुका_है

— SAMADHAN PATIL (@samadhan954) April 3, 2020
https://twitter.com/JINGO_STAN/status/1245981469605953537?s=20
More than 2000 cases have been detected in India and cases have been rising exponentially. But after making the nation bang thalis, the next ritual is making many get a sense of helplessness from the Prime Minister's actions.
The Prime Minister seems to be telling that he can do little for doctors or the people other than praying with them for a quick end to the pandemic.